Looks like my issued M16 back in the early 70's, but mine had the closed bird cage, not the 3-prong.
The Defensive Training Group
Posted at AP on 2 Oct 18.
"Ch-ch-ch-changes…..Time May Change Me, but I can't Change Time…"
Interesting start to a new post, huh?  Kinda sorta 'Bowie-like' but different….as you can see by the featured photo, this is going to be a comparison contrast with some history thrown in regarding the quintessential American, 'Go-To' rifle, the AR-15.
Let's start out with a little known trivia fact:  Which US military branch had a fully automatic version of the M16 actually designated as the AR-15?
Drum roll:  The US Air Force. The USAF chose Colt's Model 604 and had it designated the AR-15.  Same thing as the M16 feature image above (not A1), complete with select fire capability but with all the wonderful improvements (to that time) that Colt had made to ensure reliability in combat conditions.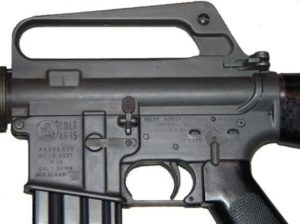 Colt Model 604 was the AR-15/M-16 model developed primarily for the US Air Force. It differed…
View original post 1,118 more words